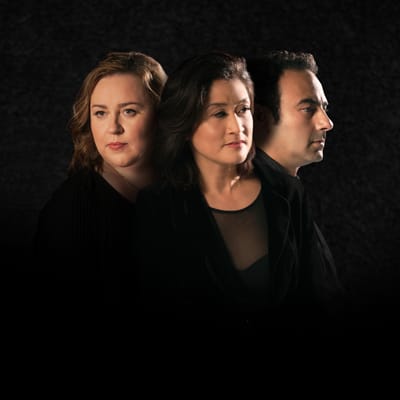 Kenneth Froehlich: Polarized
Polarized is a study of contrasts. The music begins with a vivid and rambunctious line that quickly diverges into an asymmetrical ostinato. From there, musical lines reminiscent of samba weave in and out with chromatic stepwise lines that would easily be found in early 20th century serial music. Textures build and collapse quickly, allowing the music to momentarily climax before moving on to the next musical structure. The music reaches a quiet low-point in the middle of the work, before quickly reversing course, reversing to gestures that preceded it.
This music was conceived as a response to our ever-increasingly polarized society, where political tribalism has unfortunately overtaken rational discourse. The music begins and ends in unison — my own personal appeal towards finding a unified voice that can rise above the rhetoric.
Polarized was composed for Trio Accento. — Kenneth Froehlich
Kenneth Froelich's
music is described as "energetic, exciting, and rhythmically dynamic" and "set with imagination and imagery." His music has been performed internationally in England, Germany, Italy, France, Slovenia, Finland, Canada, Peru, Argentina, Chile, and China, as well as numerous major cities across the United States. He has been honored with awards from ASCAP, the National Association of Composers/USA, Meet the Composer, the Percussive Arts Society, the American Composers Forum, and the Society of Composers Inc.
Kenneth received both his Doctorate of Music and Masters of Music degrees from
Indiana University, and received his Bachelor of Music degree summa cum laude from the University of Southern California in 1999. Mr. Froelich is a Professor in Music Composition at California State University.
Juhi Bansal: Wings
Wings is inspired by a day in the mountains and the image of a solitary bird flying through a rain-filled sky. The first movement reflects the twisting, fluid nature of flight, with sweeping gestures and rhapsodic, intertwining lines. The second movement takes gestures of raindrops and sudden flurries, which grow smoothly into a defined, rhythmic torrent. The final movement is built around gusting wind; sudden explosions from unisons in all the instruments mirror a fury of air. This gradually settles into a reprise of the first movement, returning to graceful wings over an unsettled, grey sky. —
Juhi Bansal
Described as "radiant and transcendent" (New Classic LA), the music of Juhi Bansal takes its inspiration from a disparate set of elements. As an Indian composer brought up in Hong Kong, her pieces draw subtly on those traditions, entwining them closely and intricately with the gestures of classical music. Expressive and emotive, much of her music begins with extramusical origins: visual stills from nature, poetry, or prose. Her works have received numerous awards, including the Five Colleges New Music
Festival Competition, ASCAP Lotte Lehman Foundation Art Song Competition, Boston
Metro Opera International Composers Competition, and multiple ASCAP Morton Gould Young Composer awards. She has been awarded fellowships and received commissions by organizations such as the Heidi Duckler Dance Theatre, Los Angeles Opera and the Los Angeles Philharmonic Association, among others.
Ms. Bansal is currently on the faculty of Pasadena City College.
Gernot Wolfgang: Jazz and Cocktails
The inspiration for Jazz and Cocktails was the goings-on of an imaginary cocktail party. The piece is full of conversations between the individual instruments. The tone of these conversations runs the gamut from exuberant to pensive, from light to serious, from happy to melancholy. At times more than one instrument is "talking" at the same time, at others a player is holding a monologue or seems deeply lost in thought. And throughout all this, the sound of jazz keeps reminding us that the party is going on. Jazz and Cocktails references a number of my favorite composers and performers, either thematically or orchestrationally. Duke Ellington, Dimitri Shostakovich, McCoy Tyner and Maurice Ravel are all paid tribute to at one point or another.
— Gernot Wolfgang
Critics describe GRAMMY® nominated
Gernot Wolfgang
as a "master composer with important things to communicate to his listeners" (Fanfare). To date Wolfgang has received more than 40 commissions from organizations and individuals such as the Los Angeles Chamber Orchestra, the Santa Barbara Chamber Orchestra, the European Broadcasting Union, the Verdehr Trio and Los Angeles Philharmonic principals David Breidenthal (bassoon), Joanne Pearce Martin (keyboard) and Michele Zukovsky (clarinet). Recordings of Gernot's works can be heard on the Albany, Centaur, Crystal, Koch, Navona, Polygram and Universal labels. His chamber music CD Passing Through (Albany Records) received a 2016 GRAMMY® nomination in the category Classical Compendium. He has received awards and grants from the American Composers Forum, American Music Center, Berklee College of Music, Billboard Magazine, BMI and the Fulbright Commission.
Russell Steinberg: Paleface Music by Russell Steinberg | Artwork by Jerry Kearns | Video by Carlton Bright
Inspired by the acclaimed paintings of New York "psychological pop" artist Jerry Kearns, Paleface explores the persistence of the American hero myth, even as it breaks down on every level in our contemporary society. It begins with the Western cowboy mythos— horses, cowboys, folk songs and church hymns (Jesus plays a lurking role in the piece), even a gun fight. Then it jumps to the varied 20th century heroes who struggle and triumph over dark forces—detectives from pulp comics and film noir, the secret agent, and the muscled action hero. Paleface concludes with all these icons now as phantoms, struggling in the night to cohere and make sense of a world they no longer can possibly describe. They ultimately all go to church and fade away to a ghost gospel choir. The musical style of Paleface is contemporary classical with an Americana quality influenced by Ives, Copland, and George Crumb. The pianist taps inside the piano to evoke distant galloping horses, all three instruments create a collage of a dozen folksongs and church hymns. There is dissonant chase music, a jazzy "secret agent" tune, frantic blues, and even a comic fanfare with kazoos. A brief summary of the three movements:
I.
Wild West
—galloping horses, an Ives-ian montage of over a dozen Western/American folk tunes, and a shootout; the piano in this movement uses several extended techniques inside the instrument—tapping the steel bars to imitate horse gallops, melodies and chords with muted strings, and atmospheric strums.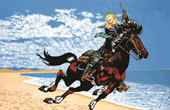 II.
Action Hero
—a fast scherzo with dissonant "chase" music, jazzy "secret agent" music, "action super hero" music, all getting jumbled together as they lurch towards a comic climax with kazoos tooting out a ridiculous fanfare.

III. Into Night
—an Adagio that takes all these American icons and thrusts them into the night of today's post 9-11 world. The first part is spooky with high notes depicting the starry night, punctuated with startling tremolos, chords that descend into the depths, and ghostly returns of previous themes. The musical landscape enters "church," with a hymn that morphs into a quasi-gospel pop anthem. The anthem swells and subsides, eventually itself becoming a ghost and fading away. —
Russell Steinberg

Composer Russell Steinberg
writes music that has been described as "freshly lyrical, pulsating, edgy, infectious" and "shimmering with great beauty and energy." His orchestra tone poem Cosmic Dust was featured in Science News Magazine for the 25th anniversary of the Hubble Space Telescope and premiered by three orchestras— the New West Symphony, the Bay Atlantic Symphony, and the Hopkins Symphony Orchestra. Steinberg is the conductor and founder of the Los Angeles Youth Orchestra, and a popular pre-concert speaker for the Los Angeles Philharmonic and Santa Monica Symphony. Steinberg received a Ph.D. in Music from Harvard, an M.M. from the New England Conservatory, and a B.A. from UCLA. Information about Steinberg's music and lectures is available at
www.russellsteinberg.com
.
Jeff Beal: Almost Morning
Almost Morning is a dance work for choreographer Claudia Schreier, composed in 2015. The piece was premiered at the Alvin Ailey dance theater on August 8th 2015 with a group of six dancers and live musicians. Although composed for dance, my goal with the work was to create a piece of chamber music that could stand on it's own. The instrumentation is the popular "piano quartet" (piano, violin, viola, cello).
Claudia's sense of both classicism and quirky modernity influenced the style and tone. The title refer's to something our (then very young) son said to his visiting uncle, who had just flown to California from the East Coast. Attacking him for a pillow fight around 5AM, exclaiming in a loud voice "get up uncle Adam, it's almost morning!" The sense of youthful energy and joy in this invented phrase seemed to capture the tone of the ballet. I love the early pre-dawn hours, (often my most favorite time to write); to be quiet, take in the day, rife with possibility.
The work has a sense of organic unfolding, as if something is growing or evolving as the music unfolds. Phrases are often passed around the group in a conversational way, and there is a sense of syncopation and playfulness in the music.
—
Jeff BealJeff Beal
is an American composer of music for film and the concert hall. With musical beginnings as a jazz trumpeter and recording artist, his works are infused with an understanding of rhythm and spontaneity. Steven Schneider (The New York Times) proclaimed "the richness of Beal's musical thinking...his compositions often capture the liveliness and unpredictability of the best improvisation." Recent projects are documentaries Blackfish, An Inconvenient Sequel and The Price of Everything. Beal has received 18 prime-time Emmy nominations and won five statues for his music, including Netflix House of Cards, and HBO's Rome and Carnivale. Beal has received commissions from organizations such as the St. Louis Symphony, the Los Angeles Master Chorale, and the New West Orchestra, among others. A graduate of the Eastman School of Music, he and his wife Joan recently endowed and established the Beal Institute at their alma mater, to promote the study of film and contemporary media music creation.